AKC370/21 HE3 and AKC550/20 HE3 on the Voe Vanguard, expanding the vision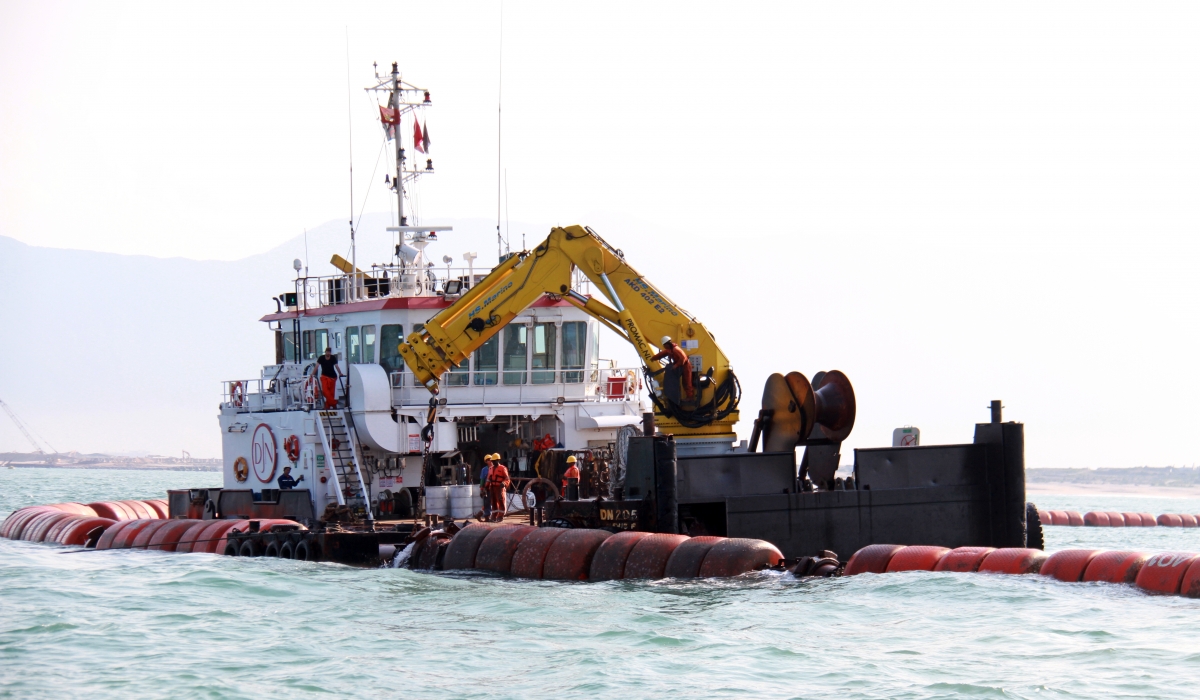 Two years ago Delta Marine started to investigate a DP1, 200 tonne boat; what they've got is a sophisticated, very new 500 tonne DP2 class vessel. Asked whether this is inspired or a case of 'mission creep' operations manager Dave McNaughtan said: "This is more a case of thinking about the future – and expanding our vision to fit."
The back story sheds some light on the evolution. "We've had a lot of calls for DP equipped multicats since Voe Earl worked on the Costa Concordia salvage," he explained and added: "We were considering a new vessel with a DP1 design – like Voe Earl – but then we realised the way the industry is going, stopping there would be silly, so, why not just go for it and build a DP2 class vessel?
"But while we were looking at the various forms we also started thinking that a 200 tonne multicat leaves you without very much shelter on the deck, especially considering the windfarms are going further offshore." In fact while the standard design's low forward freeboard is a boon in when it comes to certain operations, in rough seas it occasionally allows water ingress onto the deck – problematic when carrying equipment.
There's also the matter of competing in a crowded market: although when the company started in 2011 with its first Damen 2611, things have changed "and there's now a flood of multicats" he says, estimating the European total at around 60 or 70.
All this meant coming up with a brand new concept which, during a couple of years of talks with Damen, solidified into the Renewable Service Vessel 3315 design. Firstly, its diesel electric – a necessity given the fast power response demanded by Kongsberg K-POS DP2 units – and it's not another multicat but a bigger, 500 tonne monohull with a forward deckhouse and covered bow for steaming into the weather.
Despite its single hull, this new design has the same kind of wide back deck that you'd expect from a multicat – it's 33.18m length being matched by a 14.50m width, making it broad in the beam "and that much more stable because of it" said Mr McNaughtan.
It's obviously not tailored for speed as it's designed more for staying on site and weathering harsh conditions for 30 days or more, however, its swim bow shape should allow it to keep up a nice 10 knot transit pace. Inside the engine rooms are a pair of Caterpillar 3512C HDs, yielding a total 2,560kW of propulsive power and giving Voe Vanguard a bollard pull of over 40 tonnes both forward and astern. The power is tied together between two switchboards for redundancy; "You can run all four thrusters from a single engine if need be," said Mr McNaughtan, but ramping up is "seamless", resulting in both easy handling and fuel efficiency.
However, the best trick that Voe Vanguard has up its sleeve is that it can get into places that deeper draft vessels can't reach, outcompeting AHTs.
This is because Delta Marine decided the vessel should have a little extra on top of a pair of 1,300mm fixed, nozzled Rolls Royce aziumuthing thrusters and two 1800mm swing-down units aft. This 'extra' was a 400kW Kalkman bow thruster installed in the pushknee.
It means that while the water is deep enough for the swing-down units to keep the vessel on DP2, the vessel has a working draught of around 4.95m. However, when it comes to restricted depths Kalkman bow thruster comes into play; then the swing down azimuths are lifted to fit flush to the hull and this independent thruster allows the vessel to continue to work on DP1 with a shallower draught of 2.62m.
Given the combination of power, 'creative' DP capability and flexible draught, the vessel is well positioned for areas where there's a wide tidal range.
Its future is not just limited to windfarm servicing, "You can use it for pretty much anything," explained Mr McNaughtan. The broad work deck can be used for buoy and anchor deployment; there's a 175 tonne, 1,400mm stern roller alongside other kit like 150 tonne pull anchor handling and towing drums, shark jaws and so on, along with a four-point mooring spread. So, it should yield more cost-efficient cable lay and trenching operations as well as being able to handle over-the-side ROV launch and recovery, facilitated by removable bulwarks and enough space to fit a range of kit.
These operations are normally handled by much bigger DP2 vessels but as he pointed out, the normal anchor handling tugs (AHTs) or construction service vessels (CSVs) tend to have day rates to match their size so the Voe Vanguard should come out ahead on price.
The new vessel also has its sights set on construction projects: while a 30m barge and tug would normally be used to ferry materials from fabrication yard to worksite, the 'flexible' draught allowing it to come alongside depth-restricted quays. Further, the RSV3315's large 10 tonnes/m strengthened deck will mean it can handle a number of operations all by itself, in many cases from load to discharge.
This is courtesy of the large onboard HS Marine cranes lined up along the starboard side: the forward crane is an AKC 370 HE3 able to cope with 9.1 tonnes at 21m extension, and the aft is an even bigger AKC 550 HE3 with a capability of 58.5 tonnes at 5.5m outreach. "If necessary, these two can also be used in a tandem lift," added Mr McNaughtan.
More, the vessel has an eye to the future: it is also tailored to support the rising tidal and wave renewables market. This is an area that the company has been involved in for almost a decade and Mr McNaughtan reckons this element is about to take off; one client has already identified the Voe Vanguard as being 'ideal' for deploying mooring systems and cable works for a 50MW wave farm that's already on the way. Further, tidal generators are now looking to scale up and this RSV3315 is already in the picture. It is, he explained, partly because the Vanguard has the ability to hold station in heavy seas or, beam on, in 6 knots – extremely useful in fast running tides.
However, easy, complete handling is a necessity so the bridge has a rounded set of equipment: the propulsion control comes from four, Rolls Royce Helicon-X3s; radar, speedlog, AIS etc coming from Furuno. Alongside the chart and depth plotters it also has split beam Simrad echosounder and Marinestar survey DGPS, and of course there's CCTV, VSAT and the rest.
As the vessel is expected to handle month-long duty cycles, it's being fitted with comfortable heated and air-conditioned accommodation; this will hold 14 people in four single and five double cabins supported by the usual galley, mess rooms, sanitary facilities and so on. There's also a HEM 25/1200 freshwater maker with an output of 4.5m3 a day, and at the 'other end' of things there's a Hamann HL-Cont Plus sewage treatment plant which can handle 5.2m3 a day.
Interestingly the small foredeck has space for a standard sized 20ft container (or two 10ft units) along with electrical connection points: this could be used as 'plug & play' chilled storage to extend the duty or as extra workshop space.
As Mr McNaughtan concluded: "Versatility is central while still keeping the vessel cost-effective: I think this design will plug an important gap in the market.
Presently under build by Damen Shipyards Hardinxveld, Voe Vanguard is due for delivery end of March 2017.
By Stevie Knight