AKC 185 HE4 and AKC 290 LHE3 on the Green Isle providing integrated maintenance for offshore marine renewables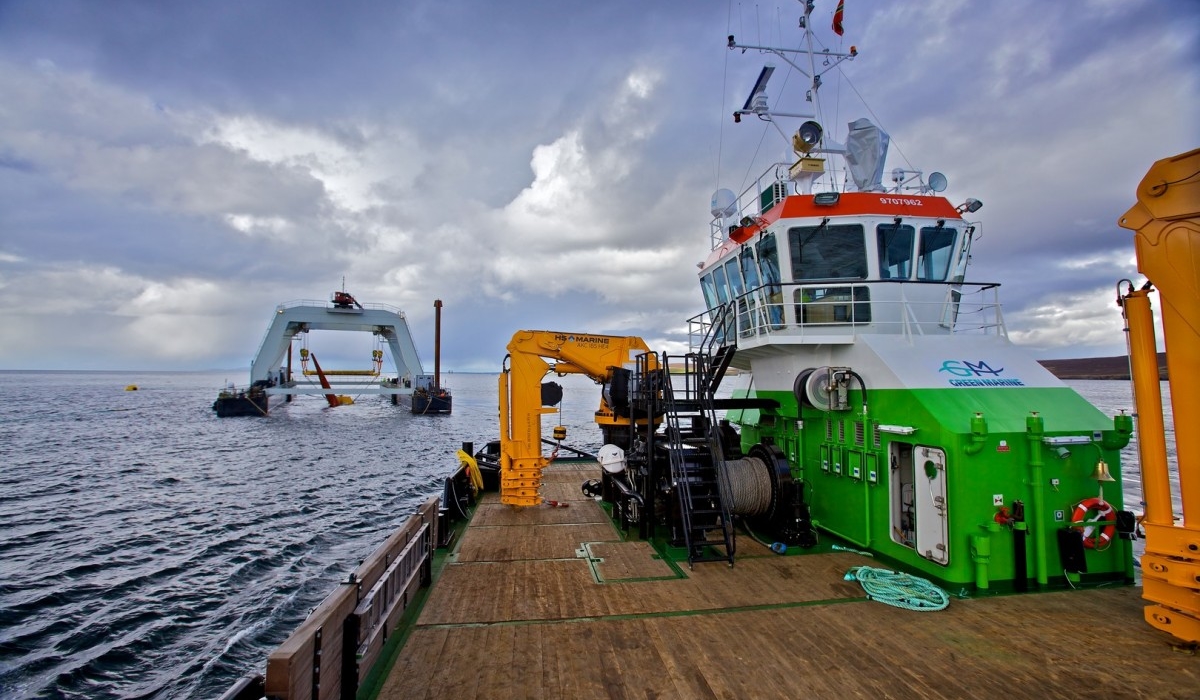 Integrated maintenance offering for offshore marine renewables
Xodus Group has formed a partnership with Orkney based Green Marine to launch a new integrated service for the maintenance of offshore renewable assets.
The lifecycle approach will utilise Xodus' new integrity management software tool XAMIN to capture and monitor live data from offshore marine assets with Green Marine providing the physical offshore inspection and repair services.
The one-stop solution aims to streamline an asset's performance, providing efficiencies and preventing downtime, in particular targeting offshore wind, tidal and wave energy devices, cabling and associated infrastructure.
Wim van der Zande, CEO of Xodus Group said: "We believe XAMIN has great potential for renewable projects as it will improve the visibility of integrity issues and the partnership with Green Marine means that any anomalies can be inspected and dealt with before they grow into a major issue. The renewables sector has the opportunity to learn lessons from the oil and gas industry where poor data management is causing problems when identifying component condition or proving life extension. If the operator has centralised data management from the outset, failure modes can be identified, which removes doubt from fault investigations."
Green Marine (UK) Ltd is a multi-award winning company operating a fleet of eight vessels and barges and provides safe installation, removal and maintenance of a wide range of wind, tidal and wave energy devices and gravity bases.
Jason Schofield, managing director of Green Marine said: "We believe there is a gap in the market for a truly joined up integrity maintenance service and our partnership with Xodus will deliver efficiencies with significant positive impacts for the management and monitoring of subsea marine assets. We can help operators gain a better understanding of their components and also reduce risk, cost and downtime."
XAMIN allows operators to capture design, installation, testing, operating, inspection and decommissioning information in a single system; reducing data losses, increasing efficiency of access and improving visibility of integrity issues. It is built around an asset hierarchy, allowing all data to be tagged to the appropriate component, which allows cross referencing. Within the operational phase XAMIN can collate all information being measured on the asset and cross reference to allow a complete picture of operability and integrity to be viewed. Once collated, data can be used to benchmark design assumptions and reduce safety margins or increase field life.
Xodus offers engineering and advisory support to clients in the oil and gas, LNG, renewables and utilities industries worldwide. Through a unique combination of expertise, experience and agility, Xodus helps its clients to overcome the challenges they face throughout the life of their assets.
From conceptual studies, FEED and detailed design, into operation and through to life extension and decommissioning, Xodus provides the clever and innovative thinking needed to maximise the return on our customers' investment. Xodus is known for its uniquely integrated services, backed up by specialist tools and training, that span the numerous disciplines involved in delivering complex projects: subsurface, process and facilities, subsea and pipelines, flow assurance, wells, integrity, vibration, safety, risk, environment and commercial advice. For more information please visit www.xodusgroup.com
Based within the hub of marines renewables in Orkney, Scotland Green Marine operates throughout Europe, hosting a range of versatile vessels and a highly skilled team with the expertise and experience to deliver a range of services to the marine industry. The founders of Green Marine have a long history working in the marine sector having owned and operated a fleet of fishing vessels, ranging in size from 12 to 108m, operating as far afield as the Pacific Ocean. In 2012 Green Marine (UK) Ltd was established, with over 150 years of real sea time experience in its core team.