AKC 145/20 HE4 and AK 48/18.5 E5: quality cranes on "Multi Quality" vessel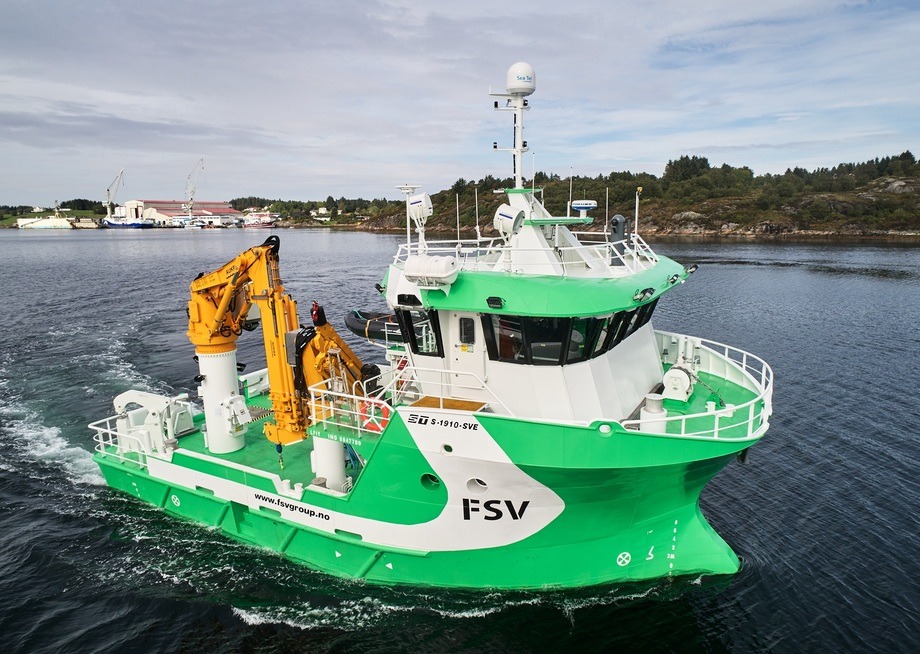 Vaagland Båtbyggeri AS, Vågland handed over the M/S «MULTI QUALITY» service vessel to FSV Group AS in April 2016 as the shipbuilding number 151. These are the "Multi Safety" sister vessels mentioned in Ship's Revision No. 6/2015.
The vessel is designed by Solstrand Trading in close cooperation with shipping company and shipyard. "MULTI QUALITY" is described as a shipping and service vessel for the aquaculture industry and is built for DNV GL class ✠1A1, Tug, Dynpos (AUT), and the Maritime Directorate's rules for cargo ships with European shipping area north of 40gr.
Machinery
The diesel mechanical propulsion system consists of 2 x Nogva Scania DI16 71M, each developing 500 hp v / 1800 rpm, and via 2 x Mechanical HS350 5,94: 1 reduction gear drives 2 x Helseth 3H140 HSD propeller with 1650 mm winding diameter. The power supply is supplied by 2 x Nogva Scania DI 13 75M engines of 376 kW. The speed is given to approx. 11 knots, and service speed 9.5 knots.
For the best maneuverability, the boat is equipped with two Brunvoll FU37-1000 power-driven side gears and two steering machines supplied by PMH. Maneuvering system is from Elmarin, and the positioning system is delivered to Marine Technologies.
Bunkers oil is supplied by Esso Energy / Bunker Oil. CjC filter separator from Øwre-Johnsen, and hydraulic pipes and components come from Hydra Pipe. The insulation work was carried out by R & M Ship Interior.
Tires / Misc
MB Hydraulics has supplied deck machinery consisting of an 80/20-tonne double-pillar, anchor winch 1-AV-22K2 and 4x capstan. Auxiliary winch is type Brevini BWF 4100, and Triplex has delivered H-100-HD Hook and Tauepinner V60. Towing hook is the type of Mampaey DCX 18/25 at 25 t capacity. The two cranes are supplied by HS Marine. Glamox has supplied LED lanterns, as well as deck and interior fittings.
The interior is made by RM Ship Interior, and wheelchair chairs are the type of NorSap 1500 and NorSap 800. Elmarin has performed both the electrical and electronic installation work. The DP1 plant is provided by Marine Technologies.