KARL SCOTT: HS.MARINE OFFERING IS UNRIVALLED IN THE INDUSTRY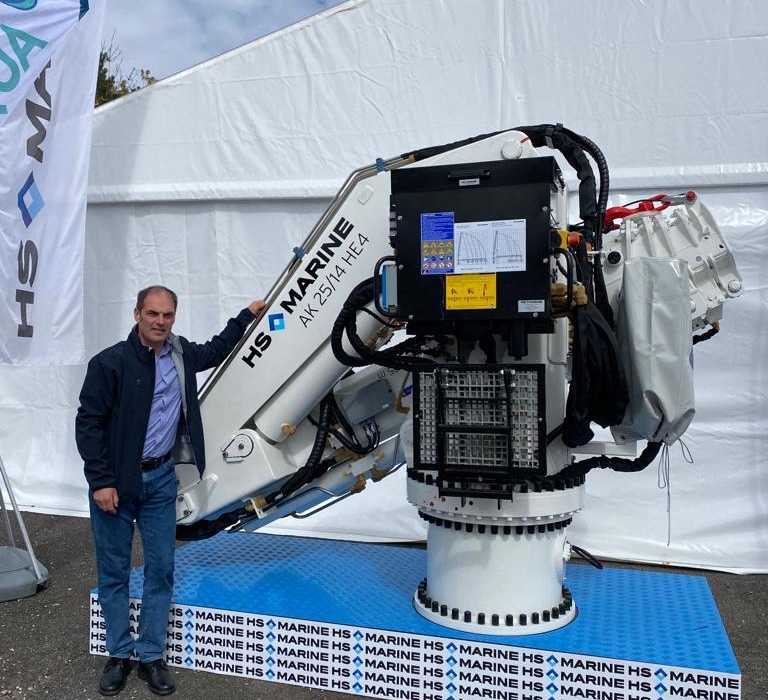 At the beginning of the first day in Aviemore for the Aquaculture exibition (3-5 May 2022), we met Karl Scott, director of MARITIME AQUA LTD. We talked about the market and what to expect for the future.
Karl, Aquaculture, the exhibition scheduled in Aviemore is upon us. What do you expect? 
"The Aviemore Aquaculture exhibition is the most important event within the UK Aquaculture
industry, missed by everyone in the last 2 years. Having been through a series of lockdowns and
knowing first-hand how everyone, individuals and businesses have struggled, I feel this week event
brings with it optimism, opportunities, collective ideas and innovation. It gives the chance for the
industry to come together, to support each other and appreciate each other's resilience but also
look forwards and plan for an aquaculture strong future, given the demand on food and growing
prices".
What are, in your opinion, the strengths of an HS.MARINE crane? 
"HS Marine Cranes strength isn't something rivals can just copy. They are not on top because of a
silver bullet. It is the team behind the design and engineering. It is the teamwork, the leadership,
expertise within the industry and their absolute dedication to customer success. It is their consistent
delivery over the past 2 decades, with accumulated team based knowledge of what works, what
doesn't work, and what works best. It is the prompt delivery on the promise.
HS Marine only supply Marine Cranes. They are designed and manufactured to succeed and work in
that environment".
  
Why would you recommend it?
"Having been in aquaculture industry for 34 years, as a user and buyer of marine cranes, HS Marine
offering is unrivalled in the industry:
– Quality
– Reliability and Longevity
– On site and remote back / post-sale support
HS Marine are the best investment you can make: HS Marine cranes are not for just today, or just
tomorrow. HS Marine are cranes that will stand the test of time, and will reliably support your
operations in 10 years time".
 
What about the market in the coming months?
"I expect that challenges in terms of staffing and supplies will be the main challenge everyone will
encounter. However with good planning, optimism and determination from all involved, I expect the
industry to come out stronger than ever. Many businesses are looking to expand, moving towards
remote/offshore locations along with better efficiencies and larger individual farming units which in
turn require larger vessels and lifting equipment to support their operations. We expect the next 12
months to be very busy for HS Marine and look forward to supporting existing and new customers".