GARY SCOTT: HS.MARINE IS ALWAYS A SUCCESS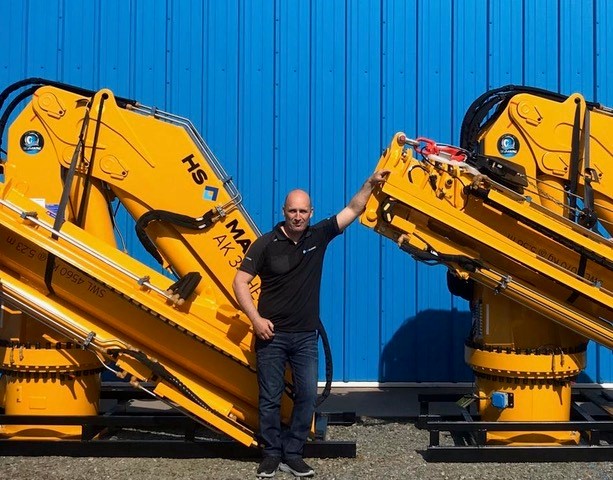 Waiting for Aquaculture exibition (3-5 May 2022 – Aviemore, Scotland) we met Gary Scott, director of Gs Marine, an important point of reference for HS.MARINE in the UK. He talked about his experience and explained why the choice of an HS.MARINE crane is always a success.
Hi Gary, how is the crane market doing in the UK?
In Shetland and Orkney, we have so far had 6 successful years as proud Agents for HS Marine cranes. The Aquaculture and Marine industry here in Shetland and Orkney has recognised the importance of having safe and reliable equipment on their vessels for efficient production and that is where HS Marine cranes are number one, built from the ground up as a marine crane. Our customers who have invested in HS.MARINE cranes have repeatedly returned for multiple orders which speaks for itself.
In the past few days you visited one harbor and you had a "surprise". Could you tells us about it?
During a recent visit to Lerwick, the main town in Shetland, i counted over 20 HS.MARINE cranes on vessels alongside the various piers throughout. This is a significant increase compared to 2016 when we first became Agents. This confirms how good HS Marine cranes are preforming within the Aquaculture and Marine industry. 
Why to choose HS.MARINE?
HS.MARINE is a fantastic company who we have built up an honest and lifelong friendship with. Not only are they professional in their crane manufacturing with attention to detail and a vision in individual requirements, they offer faultless technical support. There is no other crane manufacturer who offers 24/7 aftercare. So why to choose HS.MARINE?….. I need to say no more! 
How do you see the future?
With the tough market we face at present, due to global price increases on materials, we believe that HS.MARINE cranes, due to their superior quality and longevity, will expand further within Shetland and Orkney. We strive to promote our cranes and build upon the success we have had in the past 6 years. We look forward to welcome all customers new and old to visit the HS.MARINE stands 1 and OS31 at Aquaculture UK, Aviemore 2022 where we will be showcasing one of our AK series crane.